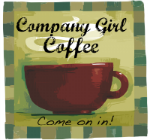 Yeah, I know those of you who know me personally are thinking, "Coffee? That girl prefers steamed milk or hot cocoa!" But, this is a link-up, and I'm participating...and sitting down with some hot milk.
So, awhile back, I
posted a thought
by my husband. He had it while flying to a business destination, and I've been thinking about it. I thought a little about Christmas, and how my children complained that we had taken down the decorations. "Why don't we celebrate that way all year?" they asked.
I gave my answer to them some thought, and my mind came back to my husband's writings. If we kept the glitter and glitz up all year long, it wouldn't be exciting, or special anymore. And there are other holidays to celebrate with vigor and excitement, such as Easter, the 4th of July, Thanksgiving, etc. Each of them have a fun side (seeing family, decorating) and a thoughtful, worshipful side (yes, even the 4th! Think of how blessed we are to live in this nation. That holiday makes me cry each year as we sing our national anthem and put our hands over our hearts during parades as the flag passes by...might be because both of my parents are veterans, but either way I hope my children feel the same).
Another thing that crossed my mind was my facebook account. Now, don't get me wrong, I enjoy seeing the photos of old friends' children, seeing how they grow, learning about who married who from my hometown, and seeing what is new--especially since we've moved so many times and otherwise I'd lose track of people. There are so many great people I've met at each location, those who I really want to keep in touch with, and facebook does save me time in that area, as I can write short notes to them frequently and get photo updates. However, what of the people I used to talk to on the phone frequently? Has our relationship disintegrated?
There have also been times that I waited for a reply to an email from a NEIGHBOR to see if it was OK for me to stop by. Prior to having an account, I would have stopped by anyway, then if it was a bad time, excused myself and returned at another time. We had more interaction then, but now I worry about interfering in her life (yet I'd be excited if she--or any other--stopped by, so why don't I realize they might be excited, too, rather than worrying that I'd be a bother?)
So, as usual, my thinking gives me more questions than answers. However, I feel it was worth pondering, and I might have taught myself a thing or two.
What about you? Do you long for how your relationships used to be? Before technology? Or has it made your life better?
And yes, I see the irony in this post being written electronically.